FINALLY…
A QUICK, EASY, AND PROVEN SYSTEM TO 
LOOK GOOD ON LINKEDIN
Discover the secret to making a jaw-dropping first impression with your LinkedIn profile, and getting maximum exposure. 
It works for any profession or industry — even if you're completely new to LinkedIn.  
There's been so much hype surrounding LinkedIn. We have been told that "it's the wave of the future," and "everyone needs to be on LinkedIn."
Even before you joined, you kept getting those pesky invitation requests from all of your contacts. It seemed like every employer was on LinkedIn and they fully expected us to be on there, too. The network itself seemed to be growing faster than the population of China.
You may have thought that with all of this buzz, you'd sign up, setup your profile, and then the floodgates would open — you would be hit with a deluge of new connections, that you could use to take your career skyward.
That didn't happen. In fact, you probably signed up, created your profile, and then?
**Crickets.**
You had very few connections, and almost nobody talking to you.
With your first disappointing round on LinkedIn, perhaps you decided to jump-start your activity with one of these classic wastes of time:
Manually adding random connections one-by-one until your fingers ached from clicking.

Shamelessly endorsing everyone for skills that you couldn't verify.

Begging friends and colleagues for "filler" recommendations.
None of it worked.
Look, you KNOW LinkedIn is a massive arena filled with countless jobs, clients and opportunities. From time to time, you may even hear about someone who used LinkedIn to get a new job, or take their career to the next level…
But perhaps it feels like that world of opportunity isn't reserved for you. Maybe you will never be one of those lucky people.
It doesn't have to be this way.
Keep reading and I'll show you how to make a jaw-dropping first impression on LinkedIn, and get more views, connections and opportunities with your profile. 
HOW I BECAME A LINKEDIN
PROFILE WRITING EXPERT 
I have been a direct response copywriter for the last 5 years. As part of my job, I've mastered the art of persuasion using the written word. So I've written hundreds of ads, sales emails, sales videos, etc.
When I got on LinkedIn, I was excited. I was ready to find more clients for my small but growing business. I looked around, and as I inspected other peoples' profiles, I felt a twinge in my stomach. Do you know that feeling you get when your gut is trying to tell you something? I felt like the way everyone was setting up their profiles was all wrong. Almost everyone violated the rules of persuasion that I spent years studying and mastering.
My gut told me to try something different. I went to work crafting a profile that I felt would persuade the masses. I revamped my profile, and I waited to see the difference…
Almost overnight, my connections shot up. Instead of getting one connection request per week, I'd get one or two per day. These weren't spam requests. I was able to convert many of these new connections into cold hard cash for my business. And the weirdest part? Every couple of weeks, someone would reach out to me and say something like:
Hello Anton, Wow—your profile is perhaps the most impressive I've read. Having reviewed your profile, I feel your talent, skill and experience would be an excellent fit for the copywriter with branding experience job we have available.
This was the start of my journey as a LinkedIn profile writing expert. Since those early days, I've spent hundreds of hours refining my techniques and results. I "cracked the code" to making a jaw-dropping first impression on LinkedIn.
After writing LinkedIn profiles for countless professions and industries, I discovered something that might surprise you: 
MYTH:
YOU NEED A "ROCKET SCIENTIST'S 
RESUME" TO MAKE A GOOD FIRST
IMPRESSION ON LINKEDIN 
Your LinkedIn profile isn't a resume. It's more like your personal advertisement. It's purpose is to give decision makers a good reason to take the next logical step — to connect with you. When you create your LinkedIn profile, you don't have the time to go into detail about your entire work history because, quite frankly, your reader won't give you that luxury. There comes a point where listing your long work history can have diminishing returns. This is good news! It means that you don't have to let your limited experience become a liability. The key here is to say more with less. You have to make a lasting impression in a matter of seconds…
SO WHAT'S REALLY
HOLDING US BACK?
To the people who matter, your profile looks just like everyone else's.
Just think of it from an employer's perspective: they must gloss through THOUSANDS of profiles. After a while, all of them start to sound exactly the same. They repeat the same empty platitudes over and over.
The problem is that you don't know how to translate your qualifications into words that give your readers goosebumps. You're a prince (or princess) but everyone sees your pauper's clothing, so they toss your profile into the scrapheap forever. As a result, your LinkedIn account sits in cyberspace collecting dust, and your career is at a standstill.
Now to add insult to injury, let's talk about the most irritating part of all:
I call it, "The LinkedIn Paradox." In theory, LinkedIn is supposed to be great, but in practice, everyone simply expects you to "know" how to be a LinkedIn wizard. You already have a job. You have better things to do…And now, you are supposed to just "figure it out"?
When you think about it, this unfair expectation makes about as much sense as giving driver's licenses to babies and expecting them to drive themselves out of the hospital. No manual. No driver's ed. Nothing. That's what you're up against.
WHAT'S THE SECRET TO MAKING 
A JAW-DROPPING 
FIRST IMPRESSION ON LINKEDIN?
The best LinkedIn profiles always accomplish one thing: from the first glance, they clearly demonstrate to the reader why their lives will be better.
I accomplish this with a formula that I call, The Hook, Line and Sinker method.
Hook: Your profile needs to hook the reader's attention. People have A.D.D. — especially these days. Your profile needs to rip the reader out of their mental fog, pull them away from more fun distractions like Facebook or Youtube, and get them to completely focus on you. Most people never do this, and so decision makers never even take a look at their profile.
Line: Once you have a reader's attention, you need to reel them in. You do this by impressing the reader with your skills and qualifications. The sad truth is, most people try to impress decision makers in exactly the wrong way. This is another reason why having a "rocket scientist's resume" doesn't matter: even the people who DO have an impressive resume don't know how to present that information correctly, so they end up looking like another boring candidate.
Sinker: They've read your profile and they like what they see — but don't ever assume that a reader will take action just because they like you. You must make next step as easy as possible for them — tell the reader what to do next. Without giving clear instructions, you are — once again — leaving possible opportunities on the table.
Once you have my formula in hand, you will be able to funnel targeted readers from LinkedIn to your profile and then to your inbox. You will have a proven system for making a jaw-dropping first impression on LinkedIn, and converting readers into opportunities.
You will learn all of this, and more, in my in-depth course.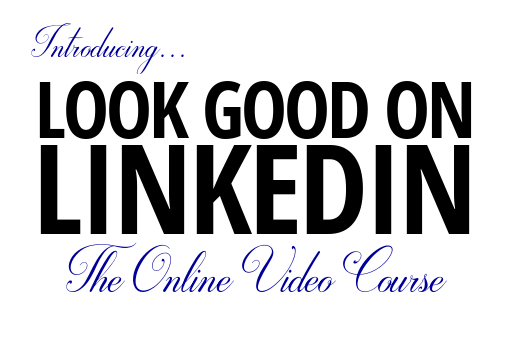 Look Good On LinkedIn isn't some collection of common-sense tips that you can find anywhere on the internet. I've poured my years of experience as a direct-response copywriter — my vast well of knowledge about how to persuade with the written word — into the world's most comprehensive course on how to make jaw-dropping first impression on LinkedIn.
 Here's what you will learn in this 92-minute video course: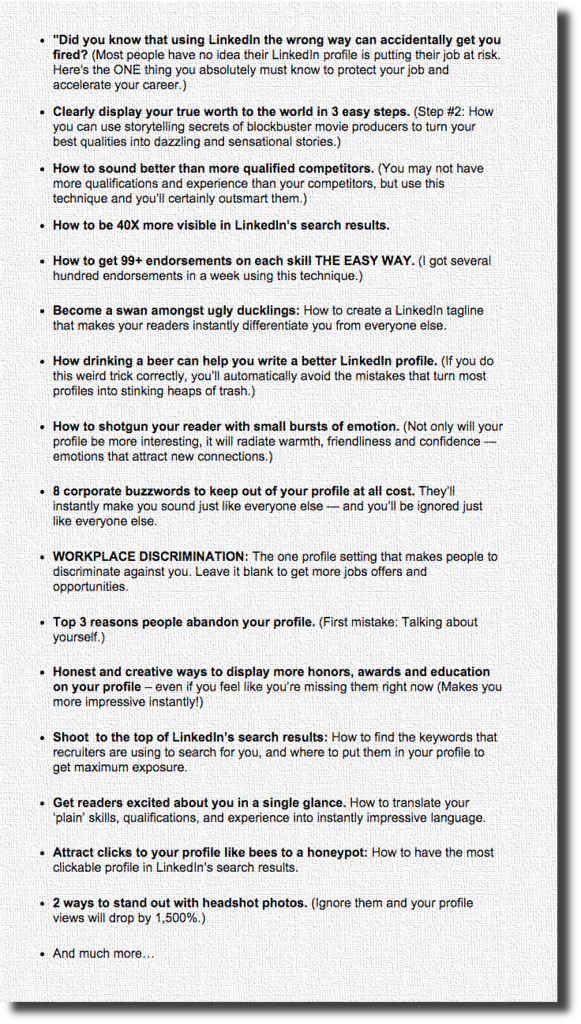 AND THE PRICE?
You'll smile when you hear it.
People routinely call and ask for LinkedIn profile writing services, and they happily pay me $319 to write their profiles.
You'll get the entire course for a one-time payment of only:
And if you don't see any difference in your career path in the next few months?
If you don't get more profile views, more compliments on your profile—more people who are keenly interested in working with you…
If you can't see the difference in your profile's raw impact, your investment is 100% safe and secure with my—
60-DAY MONEY-BACK
GUARANTEE 
Try Look Good On LinkedIn. Transform your LinkedIn profile this weekend.
If you don't absolutely LOVE the results, you can send me an email to antonvolney@midastouchwriter.com. Show me you've put the effort in and I'll give you a full, fast, and cheerful refund.
Sound like a good deal?
I can only make such a bold promise because I know my system works. You can put my system to the ultimate test BEFORE you commit to parting with your money.
THE DECISION YOU MUST MAKE TODAY 
There are a select few "shortcuts" that can yield dramatic results in your career. Look Good On LinkedIn is one of those shortcuts. It makes networking that much easier — that much more effective — but you've got to take advantage of it.
If you don't use the techniques found in Look Good On LinkedIn, your profile will continue to be a waste of time and cyberspace. Nothing will change UNLESS YOU CHANGE!
Now that you know how to make a jaw-dropping first impression on LinkedIn, it's your responsibility to do something about it.
You've got to try something different…
Something BETTER…
Something SMARTER…
If you don't, the only person you'll ever impress on LinkedIn…is YOURSELF!
Click the Add To Cart button to get instant access to Look Good On LinkedIn:
LinkedIn Profile Writing Expert.

Professional Copywriter.

P.S. You're about to learn secrets that most professionals will never know. This is THE MOST advanced training for making a jaw-dropping first impression with your LinkedIn profile.

P.P.S. You've got nothing to lose and everything to gain when you try Look Good On LinkedIn — you're backed up with an ironclad, no-nonsense, 60-day money-back guarantee!
Click the Add To Cart button to get instant access to Look Good On LinkedIn: